Coachella had been something I had been thinking about attending for as long as I remember hearing about it. Before NYC, before Instagram, I remember reading a GQ article living in Maine about a music festival in the desert, including a genre of music that consistently contains some of my favorite artists, a guest list of A- listers, a style conscious scene, surrounded by cactuses and palm trees and I thought
"These are my people! This is my event!".
I think there were a couple of reasons why I had never gone even though it had been on my mind for years - mostly excuses, but nonetheless:
Ticket sales always happen way earlier than I expect them to. It always catches me off guard. The festival is in April which means I'm not thinking about it until March - not January.
I love spontaneity, and there's something to be said about pulling the trigger when I see the sales are open, but the hassle of me being on the East Coast and making, and affording, full plans from this side of the country make it much more stringent. To give you an idea you have to:
Fly from NYC to LAX
Drive from LA to Coachella
Find housing in Palm Springs/ Indio/ La Quinta, so you're close/generally close to festival grounds
Buy tickets (which aren't cheap)
Food, drinks, Uber's for the weekend
The planning needed always outweighed the joy of spontaneity in this particular, time-sensitive case. That being said, despite it all, this was my year. Even though it was one of the scarier items out of the Project 87 list because it was time-dependent, the festival was going to happen I was either going to be there and cross it off, or I wasn't. I had friends going, I had management to help with details, it was on the list. Weekend 1 would include the participation of Drew Jessup, finally,
That all sounded great, right? But three weeks out I still had none of it planned. The only details I knew were that I had friends going and I knew I potentially had a free place to stay. I have a friend in the city named Anna who had invited me last minute to come stay at her families house, 10 minutes from the festival, last year, but for the above excuses couldn't make it work. So when I had put Coachella as #38, I reached out to her pretty promptly, and she said I could stay and then I never followed up again until we were three weeks out (dumb Drew). Thankfully, she didn't hesitate that there was still a bedroom open for grabs (Anna you're Godsent). I was checking with friends: friends were going. Most friends had already made final plans because they're responsible and don't like planning things at the very last minute. Thankfully I had a buddy in the same boat as me, Brock DeHaven, who turned out to be my Coachella sidekick. Brock was a friend I met in the city this past summer and is currently going to school in the OC and just has a heart full of goodness. Brock was going, Brock was now staying with me at Annas, Brock also didn't have a ticket.
Tuesday April 10th
I flew to LA and stayed with my management for a few days trying to finalize plans. Another one of their clients, Alex Hayes the Aussie, was staying with them for another day before heading home which gave me an opportunity to meet and bond with someone apart of my 28th Ave Management (best in the business) team. From my first moment with Alex, genuinely not knowing what to expect, was blown away by his spirit for life and that day he became the first Bad Wolf to be interviewed.
Wednesday April 11th
24 hours later the 28th Ave team had come through and found an extra VIP ticket for sale, and now I had figured out 90% of the weekend. I was staying at Anna's with Brock, I had weekend-long VIP ticket to the festival, my management and friends had gotten me on to the lists of parties, now I just needed to figure out how I was getting from LA to Palm Springs which I later solved. Brock was going to scoop me in Beverly Hills after a fitting at ASOS, who I wore most of the weekend, and we were gonna cruise down to the desert together. That evening, the calm before the storm was spent wandering the beach with my manager Ben, excited for the next couple of days.
Thursday April 12th
That morning I got up, Ubered over to Beverly Hills for the fitting, and then Brock picked me up early afternoon. What usually is a 2-hour drive took about 4.5 because a portion of the 150,000 Coachella weekend 1 attendees had the same idea as us to cruise up a day early. We got to Palm Springs around 6 and grabbed a bite as we were attending the YSL Coachella kick-off party close by and unreal. The party had a live performance by Halsey, and brief surprise guest, G-Eazy, who blew me away. Finally, around 1 am we headed to Anna's house, who was just arriving from NYC. We pulled up to a gated community which had lines of beautiful houses inside. Her parents houses bedrooms were already filled with her brothers' friends, so she took us across the street to her vacant uncles' home where she and her friend, and Brock and I, stayed in separate apartment style master-bedrooms. I would have been happy with a couch, Brock even brought an air mattress, but what Anna had set us up with was incredible and totally unexpected.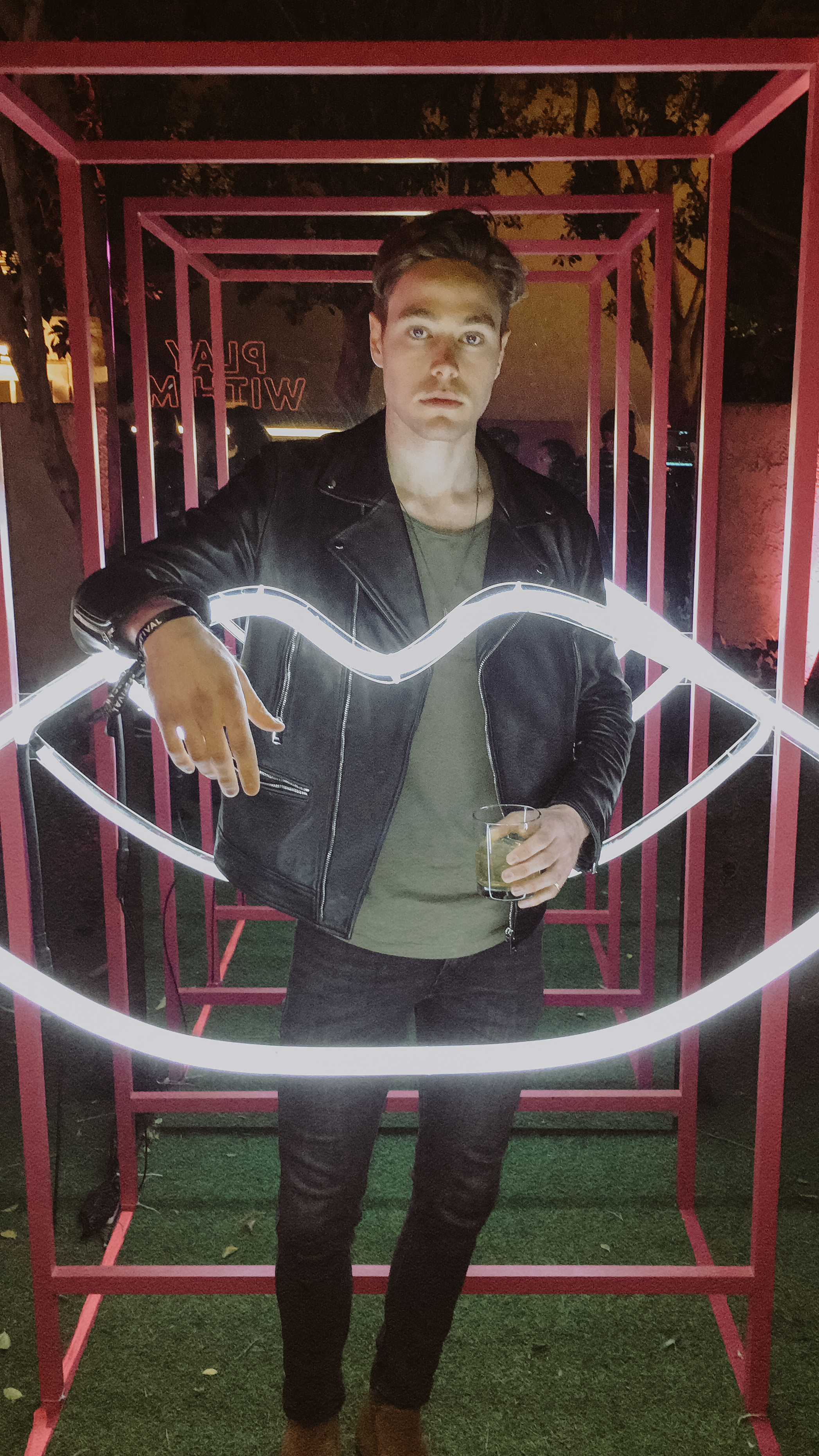 Friday April 13th - Day 1
Finally, the day was here. It was the morning of day 1, weekend 1, Coachella, let's get this party started. This morning started at the pool at the house across the street, Anna's family house.
Our weekend turned out to be pretty routine, in the best way, outside of the first actual morning of Coachella. Brock, before that point having completely struck out on leads for a festival ticket, had his good karma come back to him and found a face-value VIP ticket (unheard of) back in Palm Springs which gave us a moment to explore a bit.
Finally, around 5:30 PM the time had come, we were headed to the festival grounds. Here's what I wore for the first day, and of course had to capture the infamous ferris wheel photo before I did anything else:
Night 1 Kygo Stole the Show for me, pun intended. Not only am I a huge Kygo fan, but one of my first friends I met in Williamsburg when I moved here two years ago was Parson James - the original singer of Stole the Show, which Kygo later remixed with him. Parson is as kind as he is talented and I had no idea he was going to be performing until he came out on stage. My emotions were already running high from finally being at Coachella, and then to have a friend give a surprise performance, and one of his best I'd ever seen - what a moment, he rocked it. After we headed to the Ray-Ban party, truly in the middle of nowhere, but fun nonetheless and we were home by a reasonable 2 am.
Saturday April 14th - Day 2
It wasn't until the morning of Day 2 that we realized the guest house we were staying in also had its own pool, which of course we then took full advantage of the rest of the weekend. The house and pool were views in their own regards, but the view from the pool overlooked the beautifully groomed PGA golf course and then the mountain range in the distance. I think I need another weekend just to spend it all lying here.
After our own little pool party, we headed to the infamous Revolve pool party thanks to Brock's connects. We saw some friends, had some coconut drinks, caught some rays, and jammed to some tunes.
Despite ASAP Rocky on the lineup to perform that evening at the party, Brock and I decided we wanted to get our VIP's money's worth and headed over to the festival around 5 pm missing his performance. We popped around to a couple shows, but the one that was the most memorable was, the legendary, Beyonce.
Sunday April 15th - Day 3
Day 3 is when reality hits and you know if you're made of festival greatness or not. If you can survive and work through the exhaustion for one more day and give it your all. Brock and I, with nods to those Coachella go-ers who went much harder than us, were up for it. As always, the morning began by the pool. Sunday's lineup contained a lot of acts I was eager to see, so we decided to head over the earliest we had been and catch LANY and Vance Joy (Both two of my favorites) who were performing at 3:25 and 4:35. The rest of Sunday was unbelievable, between the acts, the people, the weather and it was all capped off by an incredible Odesza set, which was my favorite set of the weekend. That night Brock was headed back to the OC and me to enjoy my little apartment for one more night.
Monday April 16th

7 am came and I Ubered over to friends, and we were then heading back to LA. What a trip. I'll see you next year Coachella for a reunion in the desert. #38 Go to Coachella: CHECK.
All my love,
Xx Drew